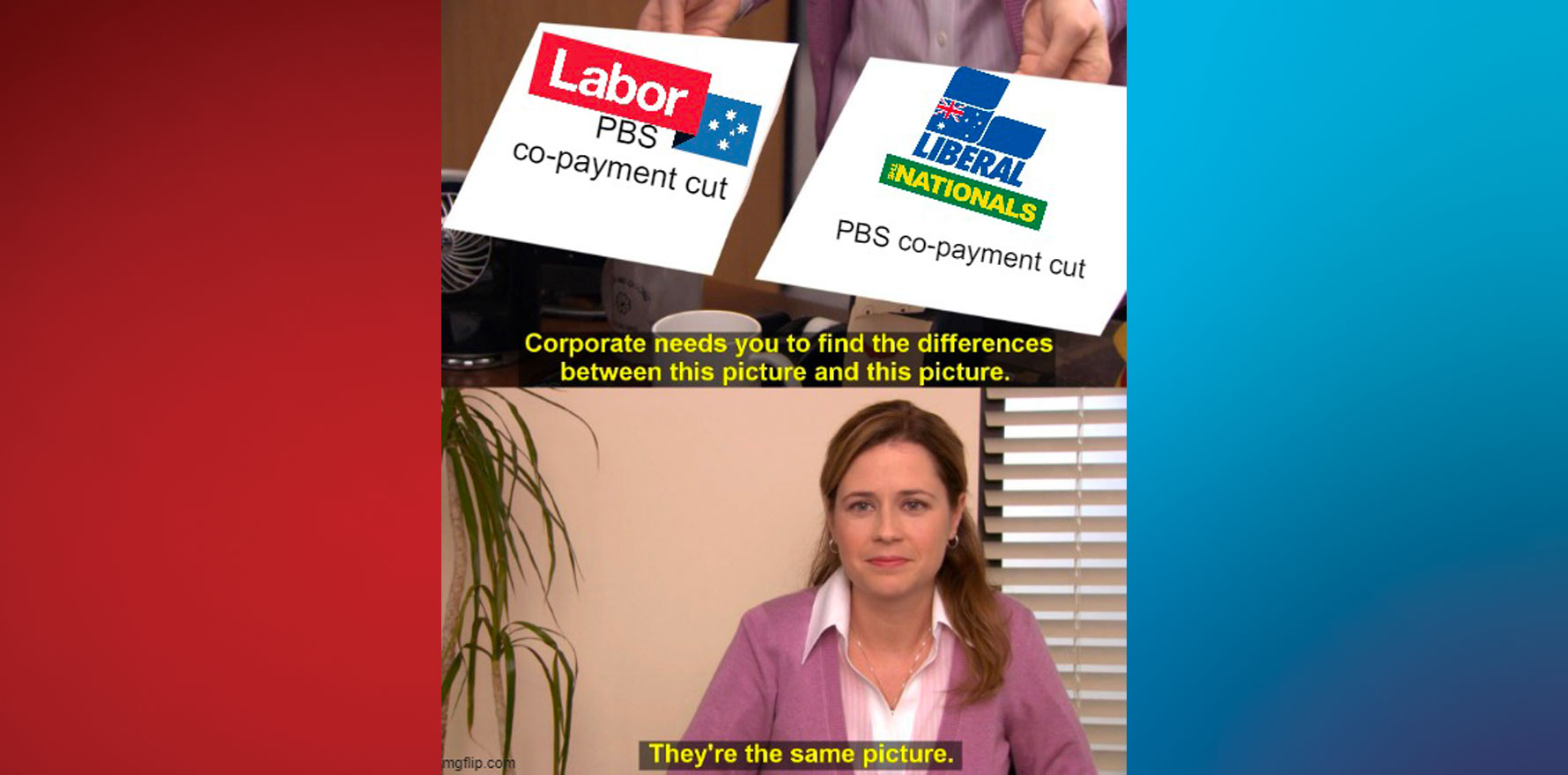 The announcements from both major parties have pleased the Pharmacy Guild.
---
This time next year, patients could be paying a maximum of $32.50 for PBS-listed medicines, with both major parties pledging to lower the scheme's general co-payment.
Under Labor's proposal the current co-payment of $42.50 will be cut to a flat $30, while the Coalition have pledged a slightly smaller cut of $10, making the maximum co-payment $32.50.
Labor's policy will save a person taking one medication a month about $150 a year and the Coalition's policy will save that same person about $120 per year.
The policies are identical in virtually every other way:
Both policies represent the biggest cut to the co-payment in the scheme's history to date.
Both parties have committed to a 1 January, 2023 start date.
Both parties say that all scripts currently counting towards a patient's safety net will continue to do so.
Both parties say they will list every drug recommended by independent experts on the PBS.
The Pharmacy Guild has been calling for a lowered payment threshold for some time, estimating that about 30% of Australians are struggling to afford PBS-listed medicines, and that, due to cost, about 17% are now skipping medicines entirely.
Guild President Professor Trent Twomey welcomed the bipartisan commitment, saying that it represented a win for patients around the country.
"Community pharmacies see patients struggling to afford medicines from prescription to prescription and from paycheck to paycheck," he said.
"As the cost of living rises, patients are increasingly finding themselves being forced to choose between putting food on the table or buying the medicines they and their families need."
The Pharmacy Guild campaigned hard for the government to lower the cost of medicines, and complained after the 29 March budget that not enough was done.
Cheaper prescriptions benefit pharmacy owners as fewer patients will leave scripts unfilled for reasons of cost, which means both more dispensing and more foot traffic.
Last year, the guild was Australia's sixth-largest political donor, giving about $206,000 to various branches of the Liberals, the LNP and the Nationals and about $88,000 to state and federal branches of the Australian Labor Party.
Announcing its PBS policy, Labor said that the "PBS and Medicare are the foundation stones of our healthcare system", and that an Albanese government would strengthen both schemes.
Other than the PBS co-pay cut, Labor has also promised 50 "urgent care" clinics, changes to the DPA system to allow regional and outer metro areas to recruit more overseas trained doctors, expansion of the newborn screening program and the establishment of an Australian Centre for Disease Control.
Lowering the out-of-pocket for PBS medicines is also a cornerstone of the coalition's pitch for making healthcare more accessible and affordable, according to outgoing health minister Greg Hunt.
The other two cornerstones of that plan include making telehealth permanent on Medicare – which has already been done – and "delivering more bulk-billed GP visits".
We've yet to see details of just how the Morrison government plans to achieve that last one.
The Coalition has also promised to relax the eligibility for the seniors' health card from 1 July, lifting the income threshold from under $57,761 to $90,000 for singles and from $92,416 to $144,000 for couples.