15 December 2020
Love (and sex) in the time of COVID-19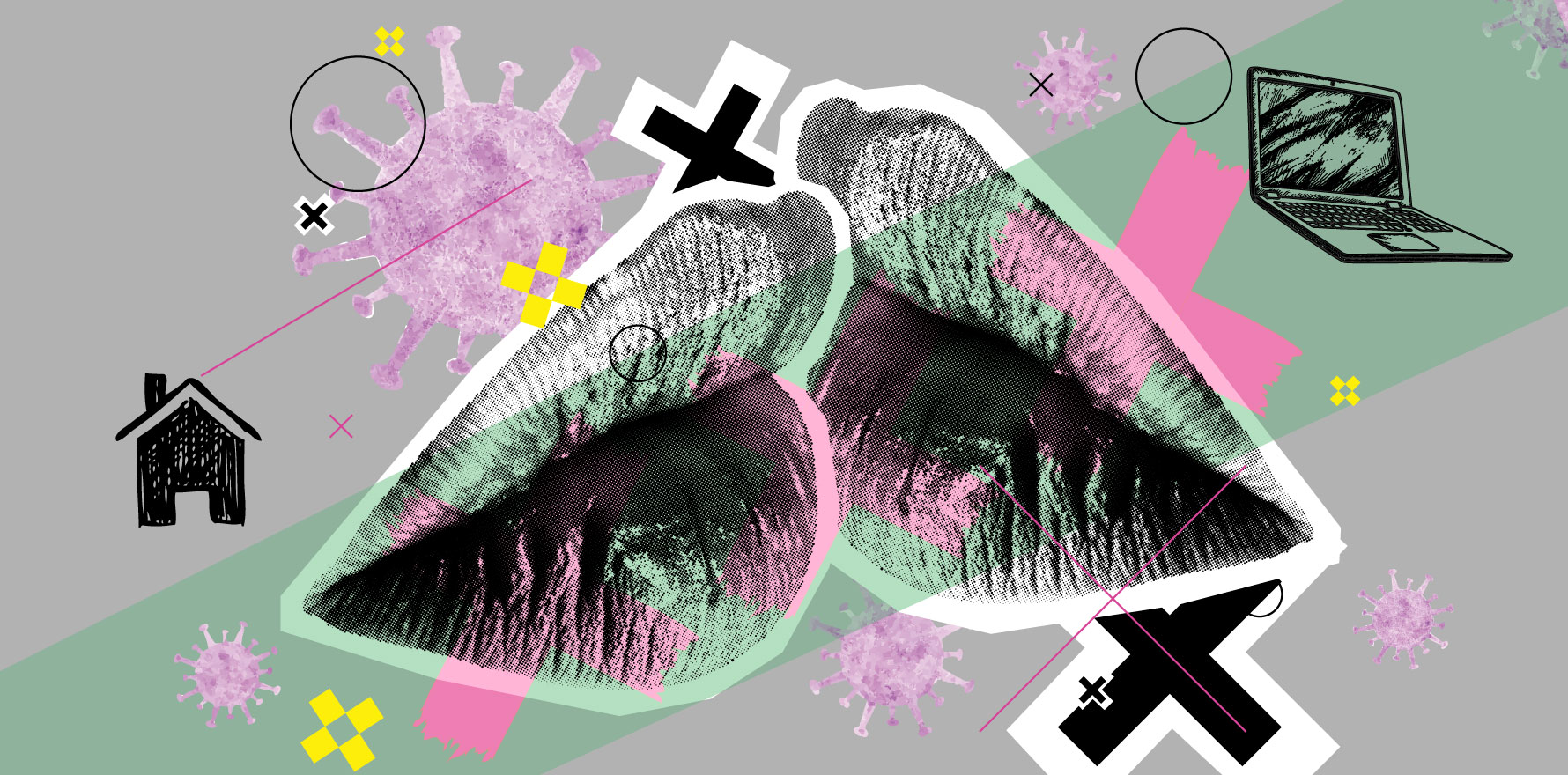 From loneliness and 'skin hunger' to 'turbo relationships' and domestic violence, from hook-ups to the national birth rate, the virus has infected all aspects of our romantic and sex lives.
---
In June 2020, the New York City Health Department advised its constituents to masturbate for their own safety.
They even advised people masturbate together – and while they should try to stay away from sex parties, if the lure proved irresistible, more open and well-ventilated spaces were preferrable locations.
The guidance explained that while much remained unknown about SARS-CoV-2, the virus unfurling across the world, everyone should limit close contact with anyone outside their household, and ultimately, "You are your safest sex partner".
But it allowed for the reality that some people rely on sex to make a living, some meet sex partners online, and some will choose not to stay at home alone even at risk of exposure to a deadly virus.
"Make it a little kinky. Be creative with sexual positions and physical barriers, like walls, that allow sexual contact while preventing close face to face contact," NYC Health said.
The Australian Department of Health was less adventurous, telling TMR it was just a matter of common sense: "physical distancing, good hygiene practices and minimising physical contact between members of other households".
It added that "minimising physical contact" would extend to "kissing and other intimate contact, particularly with people who are outside your home, such as casual partners".
Around the same time as NYC Health's missive, the Australasian Society for HIV, Viral Hepatitis and Sexual Health Medicine (ASHM) put out advice for clinicians on supporting patients who engage in casual sex, which continued despite social distancing advice. Positivity rates of some STIs at sexual health clinics were falling (along with attendance), but cases were still occurring.
Evidence of humans being stricken by the symptoms of romantic love, and lust, date back to Mesopotamian scratchings on clay tablets – so perhaps it is unsurprising that despite the COVID-19 pandemic having killed more than 900 Australians at time of writing, many are still seeking out the things that make their hearts beat a little faster.
But how has the pandemic changed the way we pursue love and sex? And what might that mean in the longer term?
To begin with, many of the usual opportunities to pursue romance – from drinking in pubs to meeting a date at a café, or simply leaving the house – were squashed.
Sydney-based clinical psychologist Ms Elisabeth Shaw says single people were largely left out of initial conversations around the pandemic.
"The dominant narrative was 'how do you cope as a parent' or as a couple stuck at home during lockdown, and I think what was hidden was the number of people who are alone or lonely, and wanting this to be the year to find someone – particularly women who are in their 30s and might be thinking of having children," says Ms Shaw, who is CEO of Relationships Australia NSW.
"I think that once this [pandemic] became more entrenched, there was certainly more commentary about how to continue to date safely for people who didn't want to put their lives on hold."
Some formed so-called turbo relationships, hitting milestones such as moving in together and getting engaged much more quickly than they usually would.
"If you are looking for a life partner, it's all very well for other people say it would be sensible not to take the risks of dating – but it's turned out to be a year of waiting and that doesn't seem viable to everyone," Ms Shaw says.
"I think people have certainly fast-tracked relationships, moved in before perhaps the relationship was ready, just to make sure they weren't going to be cut off. Some of those will have worked out very well and there will be others for whom it was premature."
Moving in with someone after only a couple of dates carries risks – but so does isolation.
Relationships researcher Dr Raquel Peel says that while fear is the biggest barrier to romantic commitment, the onset of a pandemic conjured fears of its own.
"For some, moving in with a partner earlier than expected might be less scary than being alone during a pandemic," says Dr Peel, a Psychology and Counselling Lecturer at the University of Southern Queensland.
During Victoria's extended lockdown, single people who lived alone reported feeling their solo relationship status effectively deprived them of human contact, while those in relationships were allowed to visit an "intimate partner".
It took several months for the state government to grant permission to the half a million Victorians living alone to add a nominated person to their "single social bubble".
Nationally, reports of psychological distress skyrocketed in 2020, with the number of mental health plans increasing by 12.5%, and crisis lines fielding up to 38.5% more calls compared to the same period last year.
Dr Peel notes there's evidence healthy romantic relationships can be protective against mental health issues.
"Love is a source of security and can foster wellbeing – as humans we are hardwired to search for loving connections."
A study of 1,000 people in Austria conducted four weeks after their lockdown began found that those in "good" relationships (according to the international Quality of Marriage Index) scored better on all measures of mental health (including depression, insomnia, perceived stress, and anxiety) than those not in a relationship.
"Early attachment studies have shown that we crave the feeling of comfort and security that physical intimacy can provide. Lack of intimacy and connection can leave individuals feeling like their most 'basic need' is not being met," Dr Peel says.
And "intimacy" doesn't necessarily need to be a passionate smooch with a lover that makes everyone else on the bus uncomfortable. Just like toilet paper and pasta, the pandemic has revealed hugging and handshakes as simple luxuries that are often taken for granted.
Early in the pandemic, reports emerged of covert meetings between people to satisfy their "skin hunger". They may have been illegal, but not as sinister as the name implies – people living alone under lockdown were so desperate for a brief hug that they began meeting a friend in secret.
Ms Shaw is not surprised.
She heard of people feeling "bereft" as COVID-19 restrictions robbed them of physical contact.
"There's lots of things about touch that are critical for feeling part of the human experience – that heartfelt feeling that you matter to someone. It's a big part of our communication repertoire.
"It's not just the way that we show affection, it's also the way we reassure each other – maybe a hand on someone else's or an arm around them, to comfort or reassure, or a handshake when you meet someone that forges a connection."
Could sexy screen time fill the void?
A battle of biology versus technology has played out in lockdown sex lives. Several studies suggest that while people got more creative about sex and screen time during the pandemic, it didn't always lead to satisfaction.
In an online survey of 1,559 adults in the US about changes in sexual behaviour since the beginning of the pandemic, almost 45% reported a decline in the quality of their sex life that was unrelated to age or gender. Only 14% reported an improvement.
Roughly a fifth of participants took up at least one new sexual activity – including acting on sexual fantasies, watching pornography, or having cybersex – which was associated with living alone, and feeling stressed and lonely.
But the most common technology-based additions (sexting and sending nude photos) were unrelated to reports of improvements in their sex life.
"Generally, only partnered activities were linked to improvements, with few technology-based activities showing any association," the authors wrote in Leisure Sciences.
"This suggests that while incorporating more technology into one's sex life was common, it did not appear to have been as gratifying as in-person activities."
The uptake of technology in sex might be "a temporary coping strategy" that gives way to more in-person experiences once the pandemic eases, they added.
Meanwhile, Australia has been channelling the Divinyls: in an online survey of 965 people comparing their sex lives in April-May 2020 to 2019, 26% said they were masturbating more often during lockdown.
More than half of respondents said they had less sex overall, and those who lived with a partner were the most likely to report the same amount of sex or more than in 2019.
Overall, use of dating apps also dropped significantly, from 42% to 27%, but among those using apps, there were more calls and "virtual dates" than the previous year.
Reports of casual sex also took a nosedive (from 31% to just under 8%), though the fact it continued under lockdown highlights the importance of sexual and reproductive health services remaining available during global emergencies, the authors say.
It's unknown whether the changes will persist, but co-author Associate Professor Eric Chow says as restrictions ease people may start to resume their usual sexual activities, and public health advice regarding sexual health and COVID-19 will be particularly important.
An STI epidemiologist and biostatistician at the Melbourne Sexual Health Centre, Professor Chow also co-authored a recent survey of 200 gay/bisexual men taking HIV pre-exposure prophylaxis in Melbourne in August 2020 with a "surprising" finding regarding protective equipment.
"Of those who were sexually active during the pandemic, 10% of men reported they had ever worn a face mask during sex during the pandemic," he says.
"Some men might have worn mask because of COVID-19, but it is also possible that some men may wear it for other reasons such as sexual fetishes.
"We definitely don't know the proportion before the pandemic because I don't think anyone actually asked that question."
Demographer Dr Liz Allen says we're unlikely to see a baby boom as a result of the pandemic, something that was predicted early on; rather the opposite.
During the Great Depression – the nearest comparable event – Australia's birth rate dropped from three births per woman in the early 1920s to two in 1934.
"All the uncertainty and socioeconomic scarcity also means even established, happy couples are likely to postpone having children," Dr Allen, of the Australian National University's Centre for Social Research and Methods, wrote in The Conversation.
"If we fall to or below a birth rate of 1.5, this is well below replacement level and places the future tax base at risk. Simply put, we won't have enough people to work and pay taxes and fund all the roads, hospitals and welfare initiatives we need to function as a country."
Locked down with your abuser
The darker side of this is that while loneliness can hurt our health, not all romantic relationships are beneficial.
The Austrian study that found people in happy relationships scored better on mental health measures also showed that single people fared better than those in poor-quality relationships, who scored "significantly worse".
And while family and domestic violence can affect anyone, it mainly affects women and children, particularly those who are pregnant or Indigenous.
In May, the Australian Institute of Criminology conducted an online survey of 15,000 Australian women about their experience of domestic violence during the previous three months.
Almost 5% of respondents said a current or former cohabiting partner had subjected them to physical or sexual violence.
Two-thirds of them said the violence had started or escalated since the beginning of the pandemic.
"Many women, particularly those experiencing more serious or complex forms of violence and abuse, reported safety concerns were a barrier to help-seeking," the report authors said.
Wollongong-based psychiatrist and founder of Doctors Against Violence Towards Women group Dr Karen Williams says the pandemic has exacerbated an already dire situation.
Before the pandemic, some patients could attend appointments without their partners' knowledge, but this became impossible when their partners started staying home, she says.
"They can't even ring to cancel, and I can't call them in case they're with their partner, so I'm left anxiously wondering whether they're okay. But if they do have a [phone] appointment, their partner could be listening."
Lost income and increased financial dependence on their partner make it more difficult for women to leave abusive relationships, Dr Williams says.
"If you've got a woman in an abusive relationship trying to just get a foot back into the workforce, and they haven't got experience for however many years or can only work, say, one day per week initially because they are traumatised, now's not a good time because the job market is so competitive."
Common approaches to help patients form or rebuild connections outside the abusive relationship have been shut down by COVID-19, for example joining a gym or community group, reconnecting with family, or attending group therapy, Dr Williams says.
"I've got more problems and less of the tools to treat them with … the services are just overwhelmed; I don't think we've ever had wait times like this. In my area it's about a three-month waiting list to talk to someone, like a social worker, about domestic violence.
"The content of our job has always been distressing, [but] it's harder when you can't offer much. In the past I would be seeing my patients getting better and would feel like I'm doing something really helpful, but what I'm seeing is things are getting worse, and it leaves you with a helpless feeling."
In addition, informal supports for those working in domestic violence services – such as chats in a coffee break with colleagues, or dinners after conferences – have been severely curtailed.
"Conversations are over the phone or teleconference and it is not the same," Dr Williams says.
"I don't think we can underestimate the value of having that community that understands how hard this particular line of work is – how hard it is to work with traumatised people and send them home, people who are really in dangerous, potentially deadly situations."
The sentiment was echoed in a report by the Monash Gender and Family Violence Prevention Centre on the experiences of Victorian practitioners working in family violence under the COVID-19 restrictions.
Many described incidental debriefing as "usually central to their wellbeing", and the authors stressed the need to support practitioners during global health crises.
The cold light of post-lockdown
The stresses of the pandemic have galvanised some relationships, but revealed the fragility of others, Ms Elisabeth Shaw says.
Research shows separation and divorce rates often increase after crises, though most studies focus on acute events such as natural disasters.
Ms Shaw says when lockdown threw couples together, some reported wondering why they had gone so long without making time for each other.
"But we're certainly seeing more couples in trouble – saying 'I realised why we were apart so much, we don't have anything in common,' or 'if I can't count on you in a crisis, then I can't count on you at all'.
"People stayed together initially but I think now we're seeing those relationships in trouble coming out of the woodwork and seeking help from organisations like ours. We're inundated with requests for assistance and our waiting lists are bigger than ever, as our most therapists around town."
The good news is there are behaviours people can employ to buffer relationships against future pandemics, which communicable diseases experts say are "a probability, not a possibility".
Talking about potential sources of conflict before they arise, rather than after, is one way to minimise damage, Ms Shaw says.
"It's also a really good skill to not panic or over-attribute meaning [to individual events]. If as a couple you've been having a grumpy week, [remember to] hold onto the bigger picture and say, 'generally, the relationship is going well'.
"If both people have separate friends, interests, a separate exercise routine, they can bring more back to the relationship."
The pandemic has made this more difficult, and doctors and other frontline healthcare workers are at particular risk of unhealthier adjustments settling in long-term, Ms Shaw says.
"Some might not have had the luxury of time to reflect on anything, their jobs or society demanded they just keep going, so those home/work boundaries are completely skewed.
"It's a really good time for people to start looking at whether they are genuinely reserving good time for their relationships, or whether they may be home in body, but their head and their emotional life is actually at work."