20 November 2023
Doc in a box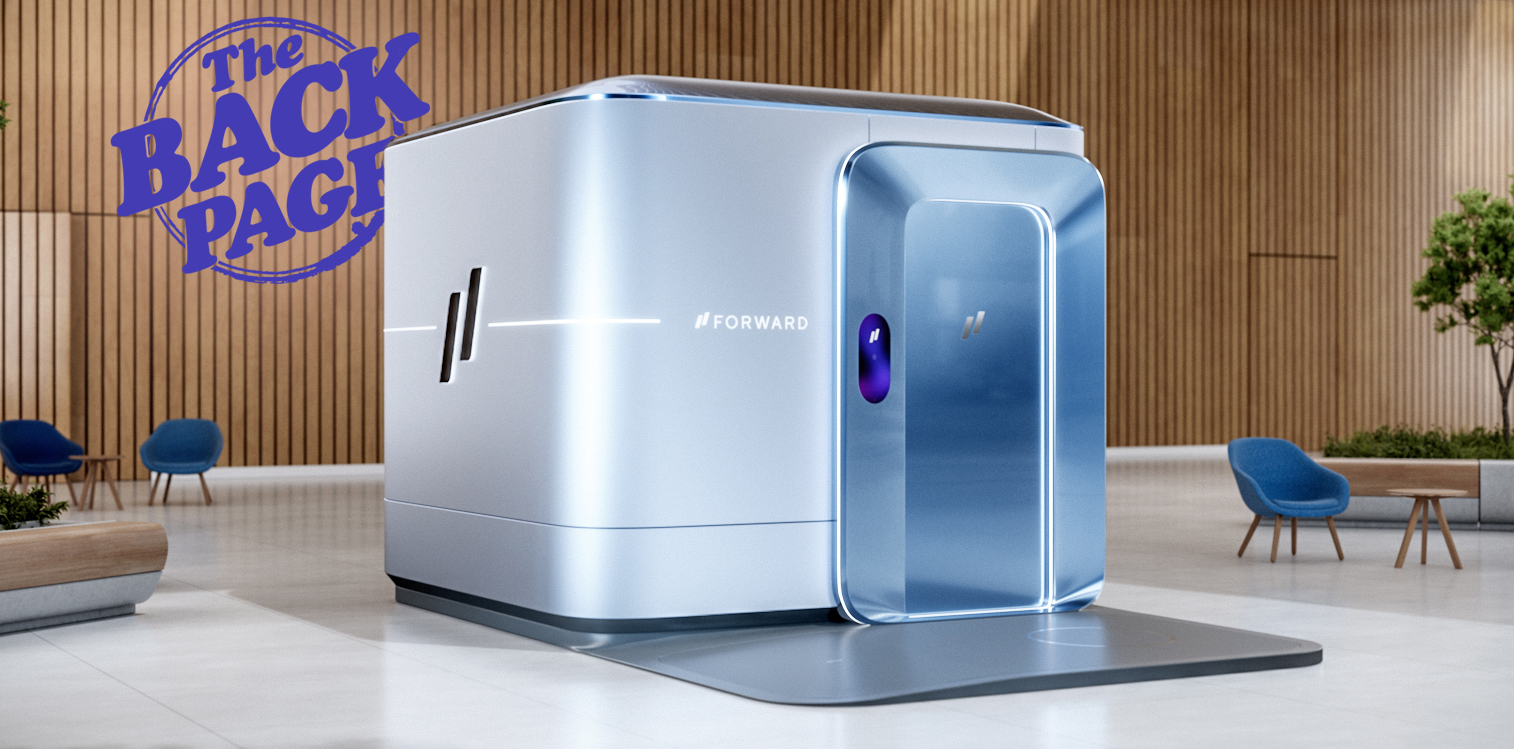 A 'unicorn start-up' has found a solution to the world health crisis. Step right in.
---
Many good things come in a box – smart TVs, LEGO, Chanel No.5 gift pack with matching body lotion. Other kinds of boxes create less excitement – coffins, for example.
In an effort to delay a citizen's endpoint in said coffin, a healthcare tech startup has launched an alternative kind of box, one with a virtual doctor enclosed.
The CarePod, created by med tech scale-up Forward, is a shiny, AI-powered, 2.5sqm cube. It's got all the mod cons Santa could deliver – biometric body scans, "bloodless" blood testing, and diagnostic screening based on the health apps that Forward has invested buckets of R&D funds into for the past seven years.
Adrian Aoun, Forward's founder and chief executive, explained how the CarePods work.
"You walk up to it and unlock it with your phone. You choose something like the body scan app and it actually spins you around in a circle and takes a whole bunch of readings then shows you the results and gives you any treatment you need, a prescription or a plan," he told Fierce Health Care.
According to Forward, the health apps can diagnose and treat a range of conditions such as diabetes,hypertension, depression and anxiety.
After assessment, patients get a handy online care plan with all the bells and whistles to keep them adhering and in tip-top shape. All for USD$99 a month!
Dermatologists also have tidings of good cheer. CarePod's skin cancer scanner will track and keep a good eye on skin lesions and discolorations over time.
What could possibly go wrong?
Let's take Australia's biggest killer, heart disease, and give it a test run in the CarePod.
A patient will rock on up to the mall/office/gym, enter the pod and sit down in the comfy arm chair. They'll select the heart app and doc-in-a-box automatically opens a tray and hands them a sensor.
The CarePod "shows you how to hold that sensor against your heart and then shows you the results on the screen", Mr Aoun said.
According to the Forward website, the med-tech sensor "can help identify the presence of a heart murmur or other irregularities". Questions will need to be answered in the heart exam app, and a "care team will review your readings and reach out if any action needs to be taken".
So easy it's heart-warming and just in time for the silly season's alcohol-fuelled parties and holiday treats laden with trans fats.
Forward has just raised USD$100 million in a series E round. They plan to expand their footprint of CarePods across the USA and they're not stopping at the border.
Forward's mission is the "world's best healthcare for one billion people, for free…We're here for the mission, not the dollar", their website said.
Uh-huh.
Patients who pay USD$99 per month may be invited to wear tracking devices to record their behaviours in real time and to test for genetic predispositions with a 23&Me-type DNA analysis, according to Forbes magazine.
Mr Aoun reassures the world that there are real-life clinicians in the back end.
""The best way to think about this is almost the way that you think about an ATM. An ATM doesn't do everything. We still have doctors behind the scenes but now those doctors aren't doing the 100% of care, they are just doing that last 5% or focusing on the complex care," he said.
"Slowly but surely, what we're doing is just migrating every single thing from doctors and nurses to hardware and software.
"In fact, much of the in-office exam can be conducted by an administrative assistant trained in using the technological tools."
Well, there you have it. A solution to the global doctor staffing crisis and a new world order for preventative care.
Is it a solution to the world's health crisis? Maybe, if you're privileged enough to live in a rich country that has protective data legislation, interoperability between health systems and a reliable wifi, this could help plug the gap.
To be honest though, there's only one doctor who rightly deserves to be in a box and that's Doctor Who. At least if I step into the Tardis and end up in a coffin through misadventure, The Doctor can manipulate the wibbly wobbly timey stuff and bring me back to life.
Now that's a box worth putting in your Xmas list.
Send your story ideas to cate@medicalrepublic.com.au and we promise to put them in a box which will tell us what to do with them.