9 November 2023
The ACR abstracts that will change practice!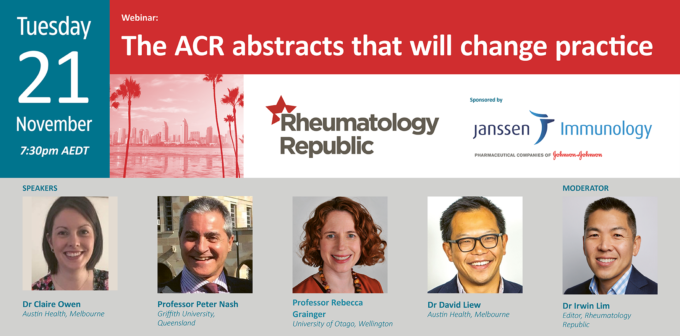 If you're a GP interested in rheumatology, join our experts for an in-depth explainer on three abstracts that matter to them and why they should matter to you.
---
With ACR 2023 fast approaching, Rheumatology Republic is delighted to announce that we will be continuing our webinar series from last year, The ACR abstracts that will change practice!
We have invited four experts who are attending ACR this year in San Diego to present three abstracts from the conference:
One that will change practice now.
One that will change practice in a decade.
One that excites or interests them the most.
DATE: Tuesday 21 November
TIME: 7.30pm – 8:50pm AEDT
AGENDA
RA, presented by Dr David Liew, Austin Health, Melbourne – 15 mins
PMR/Vasculitis, presented by Dr Claire Owen, Austin Health, Melbourne – 15mins
Communication/IT/AI/Patient Engagement, presented by Professor Rebecca Grainger, University of Otago, Wellington – 15 mins
PsA/SpA, presented by Professor Peter Nash, School of Medicine Griffith University – 15 mins
Audience Q&A – 20 mins
Moderated by Dr Irwin Lim, editor at Rheumatology Republic.
Our goal at Rheumatology Republic is to continue to engage, support and to build a wider Aussie rheumatology community. We hope you will contribute to this goal by joining us on the 21st!
This content was developed by Rheumatology Republic editorial with funding from JANSSEN. The content is independent and reflects the personal opinions of the authors. The views expressed do not necessarily reflect the views of JANSSEN.